ROSH HASHANAH & YOM KIPPUR
MPAGNUCCATA SICILIANA
A honey dessert reminiscent of Neapolitan Struffoli.
HONEY ORANGE SORBETTO WITH LAVENDER
House-made sorbetto. dairy and nut free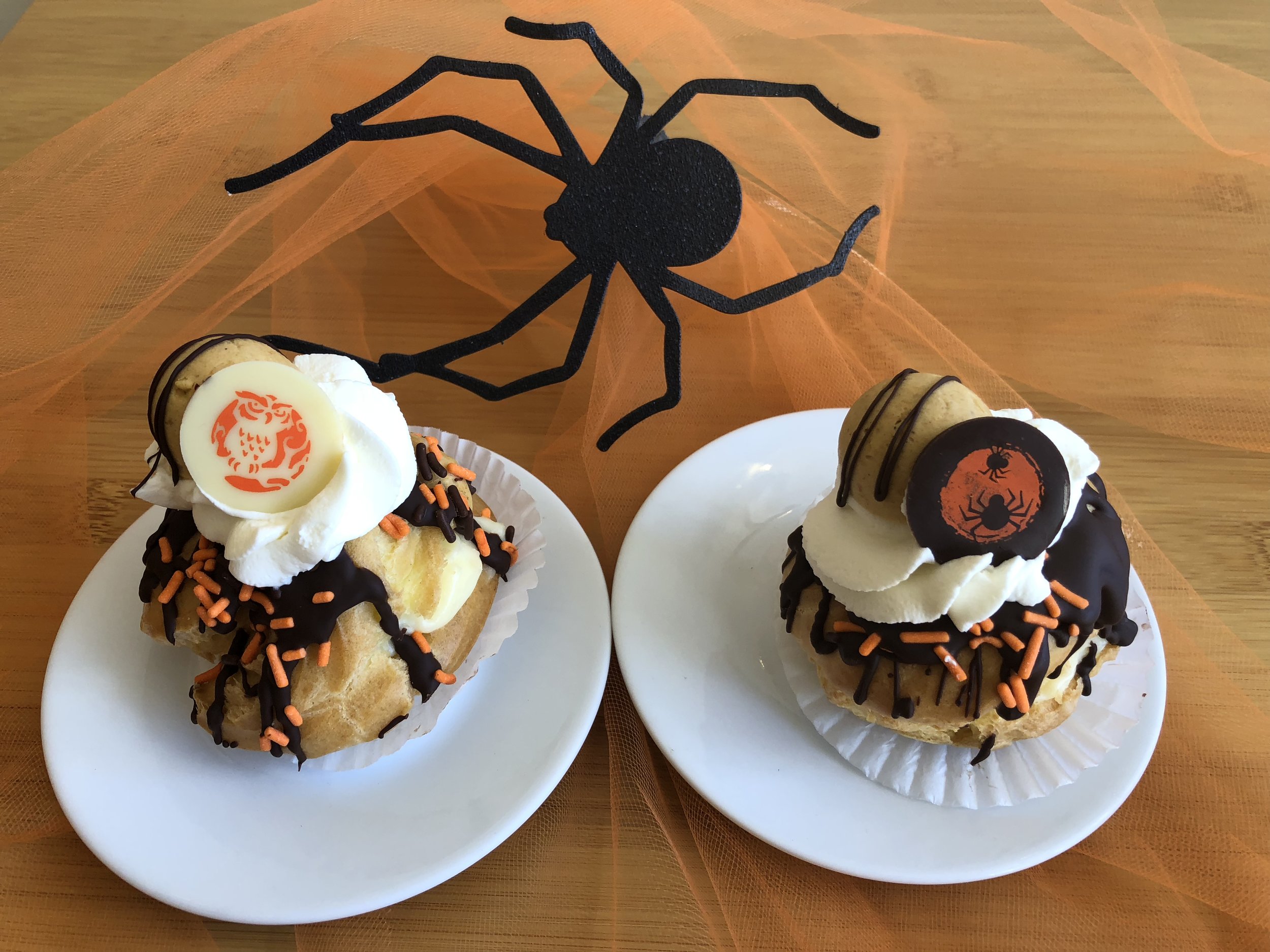 HALLOWEEN
TRICK OR TREAT MOUSSE
Milk Chocolate Mousse with a swirl of Caramelized Pumpkin Mousse.
GHOSTS, BATS, BLACK CATS & CANDY CORN CAKES
Our classic Vanilla Buttercream Cakes decorated in the Halloween fashion.
PUMPKIN & GHOST ROYAL ICING COOKIES
Ghost and Pumpkin cookies, mini chocolate mousse bites with hauntingly delicious ghost, black cat and owl chocolates, pumpkin mousse & vanilla pastry cream puffs.
Let L'Arte haunt you with our spooky treats for Halloween!
THANKSGIVING
Pumpkin Cheesecake
topped with whipped cream
individual mini $4.85 7" $32
Dolce Autunno
Vanilla Cake, Fig Jam, Candied Walnuts, Caramel Buttercream and a Caramel Drip Glaze
6" $32 8" $50
Sicilian Pear & Chocolate Torta
topped with whipped cream
8" Pasta Frolla Crust, Velvety Chocolate filling with Caramelized Pears $36
Torta Rustica
10" Ham, Artichoke, Mozzarella and Fontina Rustic Savory Pie
10" $42
Bread
Pumpkin Seeded Bread $5
Cranberry Walnut Bread $5
Parker House Rolls per dozen $8
Sweet Pumpkin Loaf gift wrapped $22
Pies
2.5 lbs. $28
Classic Apple, Pecan,
Apple Crumb
-or-
Classic Pumpkin
Large $25
Please Place Orders by Tuesday November 26th 201.934.3211
HAPPY HOLIDAYS
Italian Ricotta Cheesecake 7" $30 / 10" $48
With Candied Cranberries
Traditional Yule Log $36
Rich Chocolate Cake with Chestnut Cream Filling with Chocolate Whipped Cream
Italian Yule Log $36
Vanilla Cake with Vanilla & Chocolate Cream Filling with Whipped Cream
Candy Cane Buttercream Cake $32
Devil's Food cake with Peppermint Buttercream
Santa's Milk & Cookies Cake $32
Vanilla Cake with cream sauce, Cinnamon Roll Filling and Sugar Cookies
4" Elf on a Shelf Vanilla Buttercream Cake $20
4" Reindeer Chocolate Buttercream Cake $20
Panettone Farcito $40
Panettone Layer Cake with your choice of filling 1)Tiramisu 2)Italian Ricotta and Pistachio Pastry Cream 3) Lemon and Orange Pastry Cream
House-Made Italian Panettone $32
Available in Traditional or Chocolate
Parker House Rolls $8 per dozen
Also choose from our delicious pastries, cakes, breads and cookies!
THE BIG GAME
Score with L'Arte during The Big Game
February 3, 2019
Sicilian Pizza
Stone-Ground Ancient Grain Pizza Dough with Marinara Sauce, Fontina, and Italian Herbs
Torta Rustica
Ham, Mozzarella, Fontina, Artichokes and Green Olives
Football-Style Eclairs
(1) Vanilla Pastry Cream and Dark Chocolate
(2) Chocolate Pastry Cream and White Chocolate
(3) Tiramisu and Milk Chocolate
VALENTINE'S DAY
Sera Dell' Amore
Antipasto Siciliano:
Caponata di verdure, scacce siciliane, arancino al ragu', Italian bruschetta served with Italian-style grissini and Sicilian Focaccia
House-Made Sicilian Ravioli al Ragu
House-Made Cavati all Norma
Arance e Finocchio Salad with Arugula
Caldo, Freddo e Piccante:
Fried sweet ravioli served with cinnamon gelato with honey and spiced chocolate drizzle
Served with your choice of coffee, espresso, tea, cappuccino, latte, Pellegrino or Aqua Panna
This is about the Sicilian flour...it comes from the middle of Sicily 50 miles away from the town where I come from...we actually use this flour for the pizza and for the V.DAY will be in the bread, focaccia, ravioli(sweet and savory), grissini and cavati!
And my natural yeast will improve the taste of this flour too!
More information for your curiosity:
-in the Southern regions of Sicily we use to fill the savory ravioli with sweet ricotta, not as much as a dessert but still sweet.
-the ricotta in the ravioli both sweet and savory will be always the Sicilian one
-the caponata is called "in agrodolce" which means sweet and sour since a little bit of sugar is used and red wine vinegar.
-the scacce is one of the oldest and most typical Sicilian food but always in the Southern regions.

The Russello wheat is a centuries-old wheat, which was widespread in Sicily before the Second World War and which is now being rediscovered by some companies attentive to the territory, the environment, traditions and health related to food.
It is a variety that has a reduced production and does not require large quantities of nitrogen compared to more modern and productive cultivars, but which allows to prepare hard-to-eat bread with great digestibility and able to last for many days.
The Russello wheat flour is also excellent for the preparation of sweet and savory baked goods and for pasta.
But why choose ancient grain flours for your table? here are some (good) reasons:
1) They are not genetically modified in any way
Reason for which they have a very minor yield. They are not processed at an intensive level and this also determines a higher sales price, but with a healthier and more genuine product.
2) They are rougher, less refined
They are processed with stone milling: the flour that is produced is therefore much less refined than that produced with modern grain. Compared to 0 or 00 flour, the nutritional properties present in the grain are much more conserved.
3) They have less gluten
The modifications of the modern grain meant that it became much richer in gluten. The ancient grains, vice versa, maintain a more balanced relationship between the presence of starch and the presence of gluten, containing a smaller percentage.
4) They are more digestible
The lower presence of gluten makes the flour much lighter, digestible and assailable. Ancient grains are suitable for all types of preparation and are also excellent for supplementing children.
5) Avoid the development of intolerances
The sensitivity to gluten that is found more frequently in recent years, is probably due to an excessive consumption of the modern wheat rich in immense amounts of gluten. The advantage of using ancient grains away, the possibility of developing this type of intolerance.
6) They are more good and precious
The ancient grains have nuances of smells and tastes that the modern wheat has completely lost. If you make bread at home with a flour made from an old wheat (better if using sourdough as natural yeast) you will realize the difference.
7) Small producers are helped
The rediscovery of ancient grains is mainly due to the small farmers who fight against the competition of the big market every day and still choose to produce quality grains, even if this is not always convenient for them. This is why they should be helped by buying their products.
8) Historical and cultural value
Along with the value of biodiversity, their historical and cultural value is equally important. To be protected, so as not to lose the richness of our traditions.
SAINT PATRICK'S DAY
House-baked Irish Soda Bread
Cakes, Pastries and cookies decorated in the Green fashion
Shamrock green sprinkle cookies
SAN GIUSEPPE DAY
In Italy, this day has special significance for Sicilians, who attribute help from St. Joseph for saving them from a serious drought in the Middle Ages.
San Giuseppe Flavors
Vanilla Pastry Cream
topped with an Italian Amarena cherry
Italian Ricotta
topped with a candied orange peel
Zeppole Flavors
Lemon Pastry Cream
Chocolate Pastry Cream
PURIM
The jolly festival of Purim is celebrated every year. Purim 2019 begins on Wednesday night, March 20, and continues through Thursday, March 21. We are celebrating Purim following the recipes of the first Italian Ghetto bakeries in Rome, Florence and Siena.
Hamantaschen Cookies (Tasche di Haman)
Filled with House-Made jams including
Raspberry, Apricot,
and poppy seed
Ricciarelli di Siena
Flourless Almond cookies and candied orange peel
Haman' s hears ( Orecchie di Haman)
Fried pastries dusted with sugar
Passover & Easter Menu
Torta Rustica Sicilian rustic savory pie baked with Russello flour filled with ricotta, mozzarella, fontina, ham, spinach, roasted red peppers
Pastiera Napoletana our favorite Neapolitan Easter grain pie baked with Italian ricotta, cooked grain and candied oranges
Pane Di Pasqua sweet Easter egg bread baked with ancient grain Rusello flour, anise seeds and colored eggs
Colomba Pasquale traditional sweet bread in the shape of a dove
Limoncello Di Capri lemon buttercream with vanilla cake, lemon marmalade, lemon white chocolate ganache
Cassata Siciliana famous Sicilian cake with sheep's ricotta, sponge cake soaked in rum syrup, candied oranges
Cassateddi Siciliane classis southern Sicilian dessert baked with sheep's ricotta, chocolate chips and cinnamon (bite size)
Chocolate Easter Eggs small or large milk or dark chocolate eggs
Flourless Caprese Al Limone rustic flourless lemon, almond and white chocolate cake
Flourless Italian Macaroons coconut orange, pistachio, or almond
MOTHER'S DAY
Torta Primavera
coconut buttercream, vanilla cake, apricot jam ribbon and flambéed pineapple
Frutti Rossi
Italian sponge cake, vanilla pastry cream with fresh strawberries, finished with whipped cream rosettes
Individual Sicilian Spiced Chocolate Heart Cake
Mother's Day Royal Icing Cookies
Chocolate Covered Strawberries
white or dark chocolate
Father's Day Menu
Crostata al Cioccolato
Velvety chocolate pie with whipped cream
Sicilian Ricotta Tiramisu
Vanilla Cake soaked in Kimbo espresso with Italian ricotta and espresso filling
Cappuccino Mousse Cake
Vanilla mousse, Espresso Mousse and vanilla cake soaked in Kimbo espresso
Coconut Nuvole
House-made brioche filled with a coconut cream
MICHAELMAS
BLACKBERRY BLUEBERRY PIE
Blend of blackberries and blueberries fill this delicious pie.
BLACKBERRY ITALIAN TORTE
Blackberry Jam, fresh blackberries, vanilla sponge cake, pastry cream and whipped cream.
BLACKBERRY SORBETTO
House-made blackberry sorbetto. dairy free
BLACKBERRY CINGO
Cream puff swans filled with whipped cream, fresh blackberries and blackberry jam.
Seasonal